We're Here To Help
We know that times are hard for many people right now. We are here to help and can provide emergency food supplies if you live in Exmouth or the surrounding areas including Lympstone, Woodbury and Budleigh Salterton.
Please see 'Get Help' for more information about the support we offer. 
We are based at the Salvation Army Hall, Sheppards Row Exmouth EX8 1PW.  You can collect your pre-arranged food parcels or pop in if you are self-referring on:
Tuesdays between 13:30 and 15:00
Fridays between 13:30 and 15:00
Christmas Hampers - Donations Needed!
In December we will be giving out festive hampers, which will be in addition to the standard food parcels that individuals and families receive. This year we are expecting to give out over 300 hampers to support our clients as well as individuals and families identified by local churches, schools and organisations we work closely with. Any support you can provide would be much appreciated. 
Each hamper will consist of nine key items. Family sized hampers will consist of large versions of the items listed and hampers for couples/individuals will contain smaller versions of the same.
We are currently short of:
Christmas cakes/chocolate cakes
Packets of sweet biscuits
Savoury snacks
Boxes or bags of chocolates.
Donated items need to be with us by Friday 8 December so that we have time to pack and distribute the hampers. 
For more information please email: Info@exmouthfoodbank.org.uk or telephone: 07787 758511.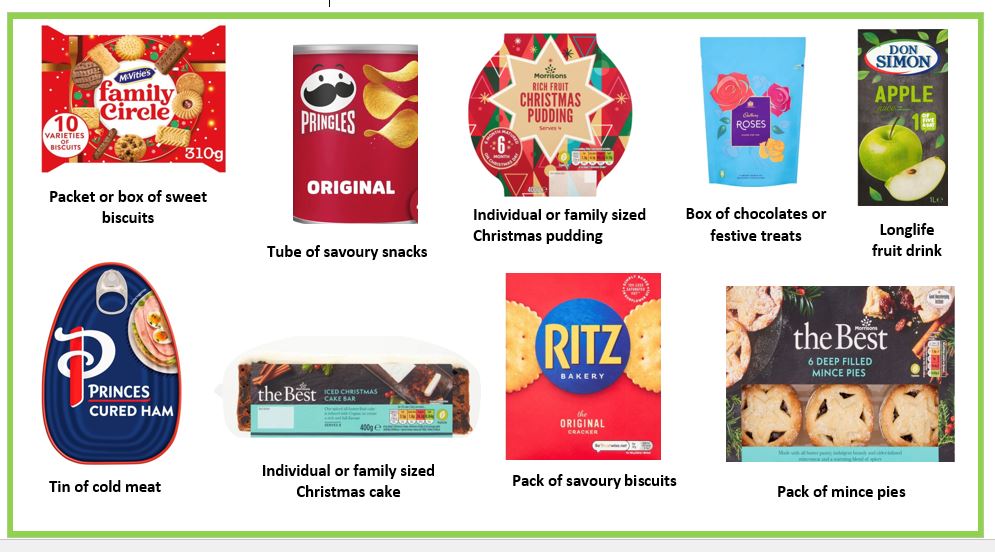 Be A Star Toy Appeal
Can you help us spread the joy of Christmas to families whose children would otherwise not receive a gift?
Salvation Army Exmouth, working in partnership with Exmouth Friends In Need, are seeking donations of new, unwrapped toys and gifts for children who might not otherwise receive a Christmas present. 
If you need further information please telephone: 07827 035265
If you aren't sure what to buy please scan the Just Giving QR code below:
Alternatively visit: https://www.justgiving.com/fundraising/thesalvationarmychristmas-2023-201
Get help
Donate